Teams come in all shapes and sizes, but there's one thing that's true for all of them - the more cohesive your team is, the more effective it will be. With teams becoming increasingly remote it's never been more important to focus on building relationships with your colleagues. Feelings of loneliness and alienation are big issues facing remote workers. The great news is, team building exercises can be done frequently and painlessly.
So, what are some practical and easy ways to engage in team building that suit the modern work environment? In this article, I have listed some of the best ways that can break the ice in your team, improve trust and communication and build a more enjoyable and effective team environment.
If you're looking for an online based team building activity you can try Brightful Meeting Games.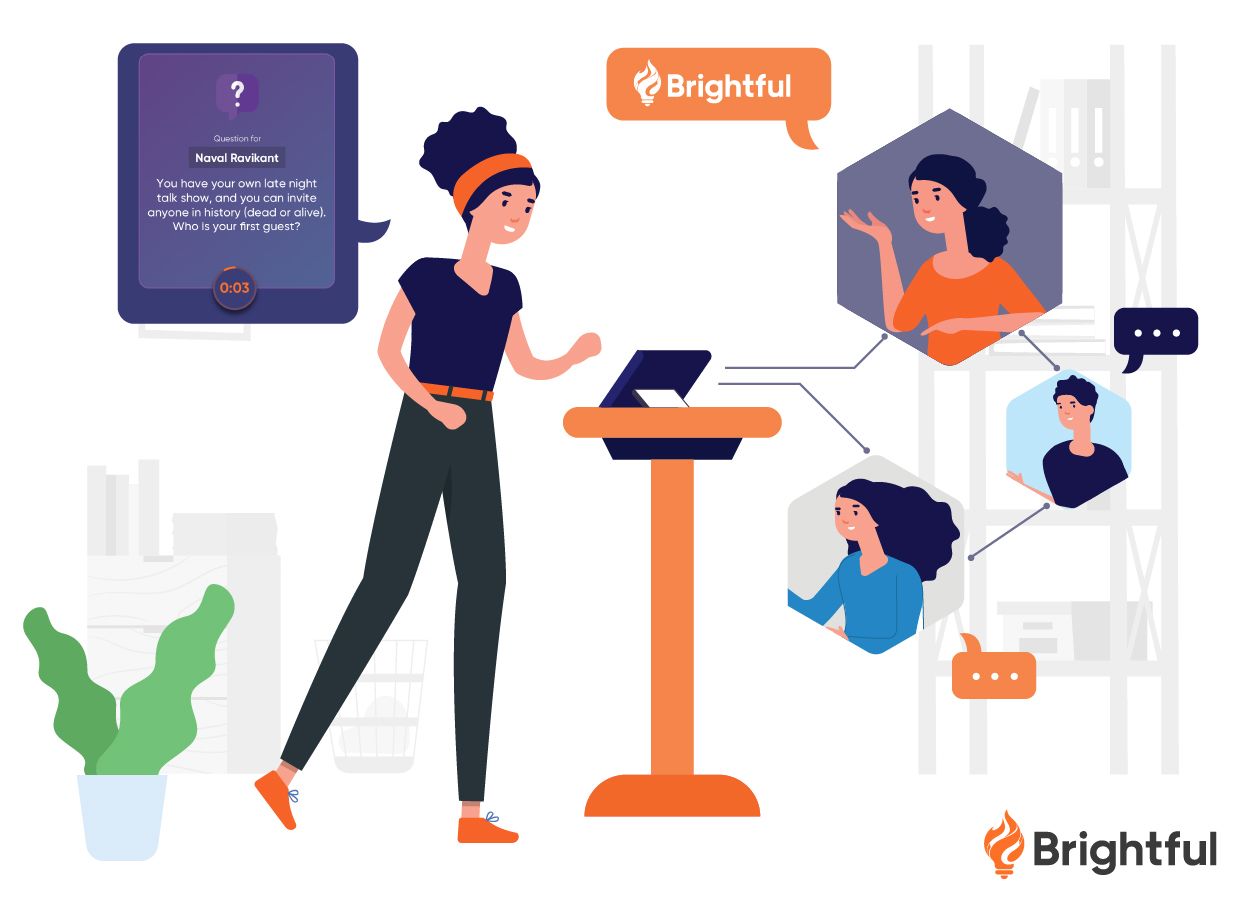 Brightful Meeting Games is a cross platform web app designed to build trust and communication in a fun and easy way.
One way to stop team building from getting stale is to have a wide variety of quick and easy activities to choose from. Below is a list of our personal favorite team building exercises which can be done virtually over video conference.
Our top 5-minute Team Building Activities for Remote Meetings
Show and Tell
Everybody knows this game, because you've likely played it when you were just a child. Now that we're all grown-ups (although we sometimes don't act like it!), it's time to revisit this childhood classic. The rules are simple. Take turns allocating 1 or 2 people to pick an item that they can show the team via video conference. The next step, as the name implies, is to tell everyone why you picked this particular item. Maybe it has sentimental value, or maybe it's just a really cool gadget. This is a wonderful opportunity for the team members to share something personal with one another.
Truths and a Lie
A simple game that's great for new and old teams alike. How well do you know your coworkers? Once everybody is in the video conference, ask every participant to tell two truths and a lie about themselves. Try to conceal your lie as best you can, and the players will take turns guessing which is the fib. Once each player has finished guessing, the truth will be revealed. Great way to see who is a great liar in your team…
If you want the easiest possible way to play this game, just head over to Brightful Meeting Games' Spot My Lie game, and get started in seconds.
What's Your Favorite?
This game is a perfect substitute for the obligatory "how is everybody doing?" at the beginning of daily scrums. Pick any topic (e.g. animal, food, city etc) and everybody takes turns sharing what their favorite of that something is. If that sounds too simple, remember that's the point of these little games. The more easier an activity is, the more likely the team is to comply! Sharing these seemingly small facts about yourself is a great way to slowly build up an understanding of your remote team's characteristics over time. It's also a fantastic way to break the ice.
Book or Movie club
On Friday, ask the team if anybody is planning to watch a movie or read a book over the weekend. If it's something that others are interested in, organize an asynchronous viewing / reading and discuss your thoughts on Monday. Although it may be hard to experience things simultaneously when everybody is working remotely, being able to discuss and chat about shared experiences is a great way to bond with your remote team.
This or That
A team building game that also doubles up as an icebreaker to get everybody warmed up before a meeting. Players choose an answer from only two options, asked in quick succession. There are two ways to play this game, the first is to ask the questions in quick succession and the second is to allow the player to explain and discuss their choices. If you need a list of words to choose from, you can refer to our This or That Questions post.

Other activities that require a little more time
Depending on the time you have, you can do other types of activities that will require a greater degree of participation and time. For example the organization of virtual happy hours in which the teams can talk in a relaxed atmosphere or play games like scavenger hunt, where in this list with different versions you can find the one you like the most, you can make your team get hooked on a totally dynamic game.In the end, it doesn't matter if you opt for short or long activities, the important thing is to organize meetings where your team can get to know each other better and feel more connected to the company.
There's always new team building games coming and going in trend, so make sure you keep up with the latest team building game trends of 2021. Alternatively, you may also be interested in playing some timeless classics, like Werewolf.