Remote work has become a common working environment for many employees and companies in the past year. Working from home has provided many benefits, such as better flexibility and time management. With the number of companies becoming remote, there are tons of them still working out the kinks and ensuring that their entire remote process manages to operate as smoothly as possible.
One of the many problems that remote managers struggle with is ensuring that their team members are all connected. The distance between employees in a remote work environment can impact them in ways that could cause the organizations to experience productivity and efficiency issues. Relationships need to be maintained among the team if you wish for any future collaborative work to be successful in the future. Since working from home tends to reduce the frequency of social interactions, managers need to come up with ways that can allow employees to substitute it with a virtual version.
Fortunately, there are ways for managers to keep their teams connected regardless of distance. Technology has provided a gateway for people to remain connected with each other, and it is up to the organization to use these technological wonders to their advantage. Let's go over some of the ways you can close the distance between employees in a remote work environment.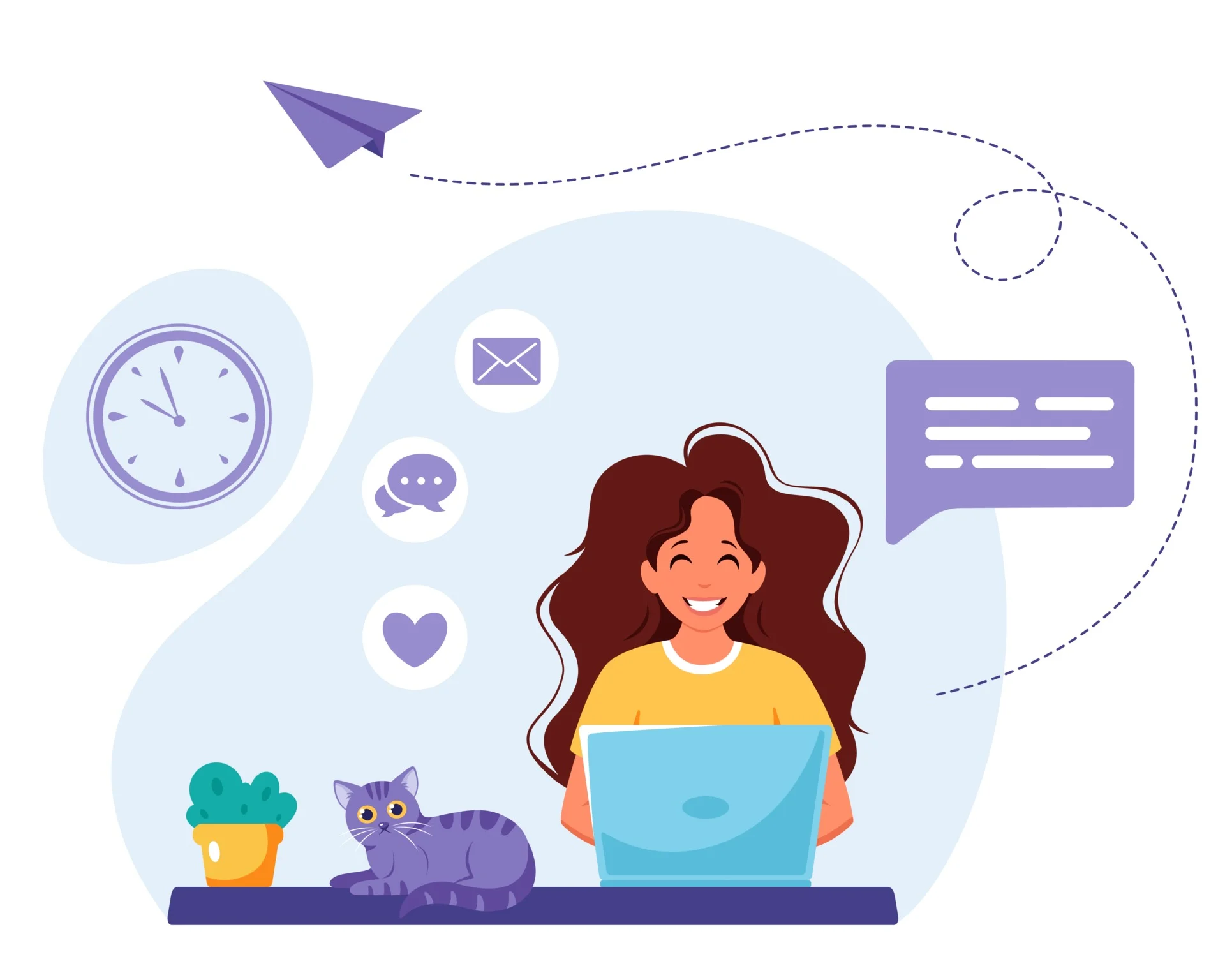 Turn your video on
Video conferencing is an awkward experience for most people. If it's the first time for the employee, they are most likely to feel uncomfortable during the whole experience. Some of them may even keep their webcams shut off or makeup excuses to keep them off since they are reluctant to appear in front of others. Plus, with everyone working remotely, they are most likely not dressed for a presentation.
However, seeing a person's face during a video call makes a massive difference in how connected everyone feels with each other. Video allows everyone to place a face on the voice coming out from the other end of the line. It humanizes the connection and permits a more personal connection. It also encourages authentic conversation and interaction between everyone. Any misunderstandings and miscommunication that occur can be seamlessly minimized thanks to seeing the speaker. That visual connection turns into trust and confidence among the team that will allow them to assist each other when they need it.
In the future, when you need to conduct a team meeting with your remote workers, make sure to include a video invite whenever possible. Make sure to insist that everyone is one video during the meeting. If anyone is having issues with their webcam, consider dipping into your company funds and sending them a new one. Some video conferencing platforms allow you to use custom backdrops in your videos. If you want to stir up some excitement, hold a Zoom background competition to see who has the best background. It's an excellent way to break the ice and close the distance between team members.
Furthermore, webcams can also help people deal with the feeling of isolation. Even your most introverted team member will find it challenging at some point during their time as a remote worker to deal with isolation. Doing the same routine every day can cause them to start to feel isolated from their team members and the rest of the world. When people can't see their colleagues for a long time, they begin to feel a sense of isolation and loneliness.
Turning on the webcam creates an environment that is closer to in-person connections than other alternative means of communication such as phone calls or instant messaging. Seeing everyone's faces provides them with better familiarity and reminds them of their times at the office space.

Group video chat while working
This idea is something you should discuss with your team members before implementing it. Essentially, everyone will keep their video chat on and continue to work through it as if they are right next to each other in real life. Of course, everyone will be working silently instead of speaking in between the work.
It's been shown that hearing someone nearby typing away and working can have a massive impact on a person's mood, morale, and productivity. It is also one of the many reasons why places like working spaces have become popular over the years. Working from home can be exciting for a whole, but doing so every day can make people feel isolated after a while and lose that much-needed connection with their coworkers.
Furthermore, depending on the rules you set into place, the setup allows your team to ask each other quick questions without needing to call in or messaging someone in Slack. Lastly, working together helps everyone regain that much-needed spontaneous brainstorming session that appears in the office space.

Establishing exciting traditions
When working in the office space environment, it's easy for managers to establish a set of exciting traditions. For example, during one of your employee's birthdays, you can set up a cake and pizza party in the office. Or during the last Friday of every month, you can set up team activities everyone would enjoy. It is necessary to continue these types of exciting traditions virtually, especially if you want them to feel connected. Your employees' mood can affect their productivity so it's always smart to organize something special for important occasions.
To celebrate one of your remote employees' birthdays, you can send them a happy birthday message on Slack. That way, other employees can also jump in and send their birthday wishes and GIFs to their team members. If possible, you could even send them a small gift or order them a pizza at their location. You can also set up some online team activities that allow everyone to enjoy themselves.
There are plenty of ways your remote workers can enjoy some online activities. Here at Brightful, we provide an assortment of online games that you can set up and play with your remote employees. Games like "Would you rather" or "Werewolf" all provide an exciting time for the whole team and ensure they manage to cement their bonds even further. We even offer a guided meditation session that you can conduct with your team. These shared experiences will nurture your team's bonds and close that distance that has grown due to remote work.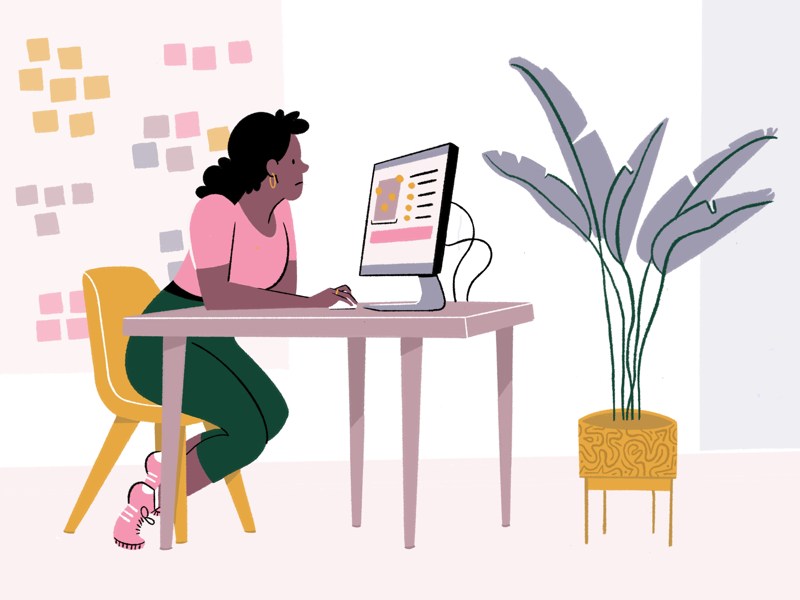 Visibility partner
One of the many issues that come with working from home is the lack of visibility when it comes to accomplishments and milestones. Most people feel like they are not being appreciated as much, which could cause a rift to appear and cause the employees to start drifting away from the rest of the team and organization. Some remote workers feel like their failures are remembered far more than any accomplishment they make. To deal with this issue, consider parting up team members to become visibility partners who shout out each other's achievements on Slack.
By providing team members with a partner, it becomes easier for them to brag about themselves. Some people on your team may have trouble speaking up about their accomplishments and merely keep silent about them. Some may be afraid of the potential social backlash they would experience if they spoke about their achievements. Having a partner can help them come out of their shell and reduce any potential bias that could happen in the work environment.

Start a virtual book club
Virtual book clubs are an excellent way to get everyone involved or at least the ones that enjoy reading a good book. Best of all, it's pretty easy to set up a virtual book club. All you need to do is create a channel on Slack where interested team members can join and vote on which book to read. Afterward, set up a date where everyone needs to be finished with the book and then meet together to discuss it.
You can also host this virtual book club on your video conferencing platform, like Zoom. Invite everyone to attend the meeting for club on a month or semi-monthly basis. Make sure to communicate clearly about the deadlines and which chapters everyone should read before the set deadline.

Start a mentor program
Another way to close the distance between employees is by starting up a mentorship program. You can achieve this by assigning employees with a senior member of the team as a way to keep them in communication with each other. A mentor program is incredibly useful for helping new employees who have not cultivated close working relationships with remote team members. Mentors are capable of serving as a valuable source of information for employees to turn to when they have any concerns or questions. However, the mentor doesn't also serve as a replacement for a manager.

Conclusion
Closing that widening gap caused by remote work is the concern of many organizations who are using remote work to keep their business in operation. Managers must come up with ideas that can ensure their remote employees don't drift apart. You could always ask employees for any ideas they may have for closing the distance between everyone. Not only will you receive some excellent ideas and feedback, but you'll also get them involved, which can help close the gap as well.