Ever find yourself in a situation where you're just sitting idly on your mobile phone, while your friend is sitting across from you doing the exact same thing? It can seem as if we are so close, yet so far from one another. Here's a quaint idea, how about playing a game of cards? Most people have a deck of cards on hand somewhere, and even if you don't, you can pick up a set from most stores easily.
We've put together a list of the best 2 player card games for the next time you want to have a fun little 1 on 1 game. There's a reason why these 2 player card games are such classics, the best games never go out of fashion!
If you're got more than 2 players, be sure to check our article of best 3 player card games.
Best Two Player Card Games to Play With Your Buddy
Egyptian Rat Screw
Everybody knows that the best card games have the wackiest names. Egyption Rat Screw is no exception. This is a fast paced game that will test your focus and reflexes. The objective of the game is to collect all the cards by slapping. The key to winning this game is making sure you watch out for all the different Slap Rules!
How to play Egyptian Rat Screw

Although Egyptian Rat Screw can be played with up to 5 people, what makes it a really great 2 player card game is how fast paced it is. Playing 1-on-1 slapping card games always ends up feeling a bit like a duel, and it will be sure to get competitive really quickly when face to face with your opponent. Try this game the next time you are looking to kill some time with a friend!

Gin Rummy
One of the all time classic card games that is a variant of an even older classic game called Rummy. This game was created in the early 1900's but it still holds up today as a great card game that requires strategy and planning. The feeling of winning a game of Gin Rummy is greatly satisfying, and the rules are surprisingly quick to learn.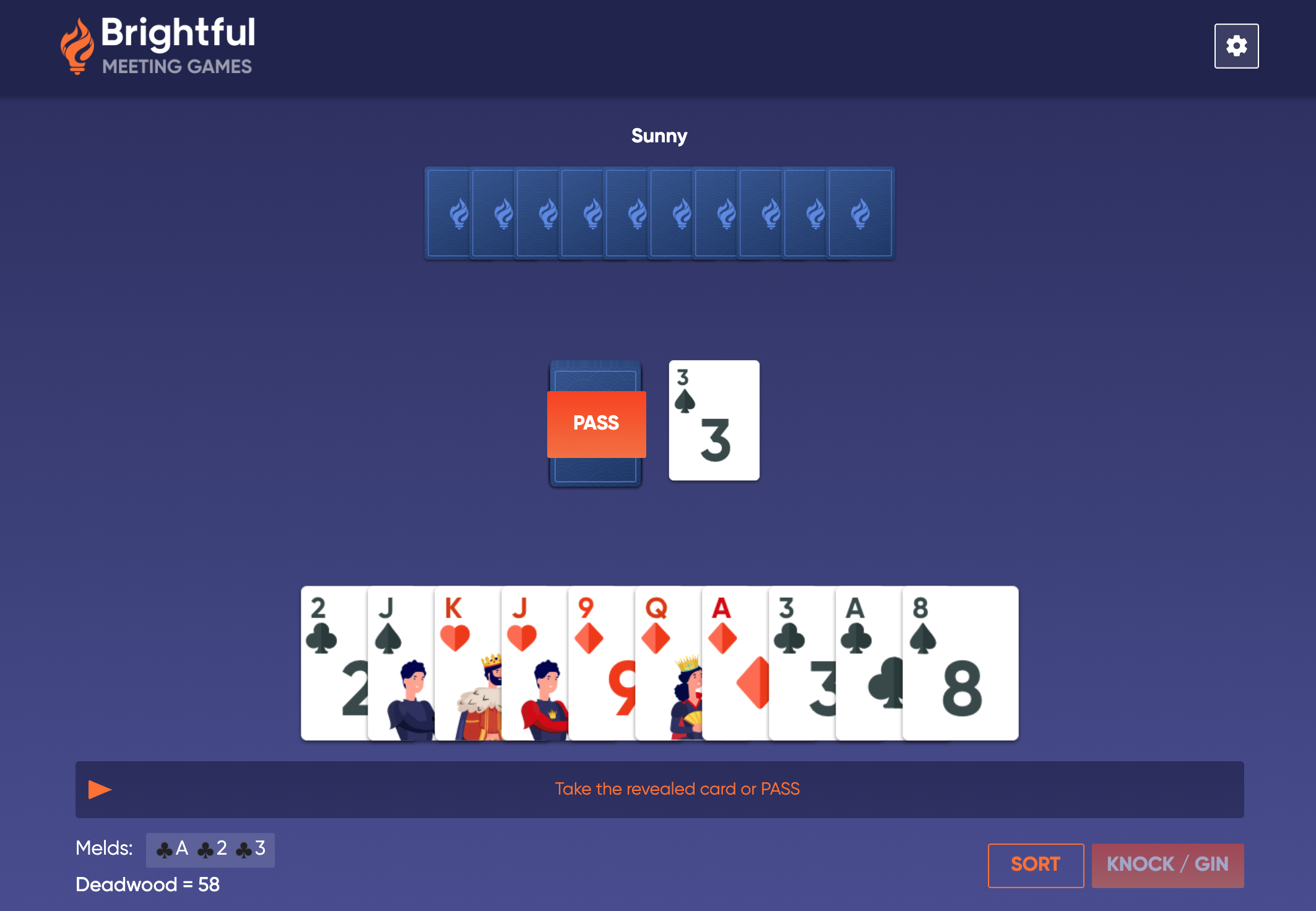 The easiest way to play Gin Rummy is by playing it over at Brightful Meeting Games. It's one of many games available for your team to play! Playing it online with your friends or colleagues is a great way to learn the rules, as the system guides you through what you can or cannot do. One of the most important things in playing Gin Rummy is keeping track of the score, and thankfully when you play online all the scorekeeping is taken care of for you!
If you prefer to play with physical cards, you can read the rules of Gin Rummy here.
Kings Corner
Kings Corner is a solitaire styled game where players try to get rid of all their cards. If you're a fan of slower-paced card games, be sure to give Kings Corner a try, as the multi-player aspect of the game adds a slightly more competitive edge compared to the classic single player Solitaire that we all know and love. The first player to get rid of all their cards wins!
This 2-player card game is a great way to kill time, but the slower gameplay also allows for great conversations to occur while playing. The next time you find yourself sitting around idly on your phone at home, why not challenge a partner to a game of Kings Corner as a way to get to know each other better?
Speed
As the name suggests, this 2 player card game is all about one thing - speed! This game will put your reflexes and memorization skills to the test. The rules are simple and you'll find yourself quickly getting the hang of it after a few practice rounds. This is a shedding type of card game - in other words be the first to get rid of all your cards to win!
The best part about playing face-paced games like Speed is how competitive things can get. It's so easy to just challenge a partner to a game of Speed, and it's a great way to get into the flow state. Be sure to try this game out the next time you're looking for a two-player game to play.
Golf
Stuck indoors on a rainy day where you'd much rather be out having a hit of golf? Play the card version instead! Golf is a card game where players try to earn the lowest number of points (just like the sport) over the course of nine deals (or "holes"). It's not quite the real thing, but if even if you're not a fan of real golf, you might enjoy the card game version! This is a great draw and discard type game to play with 2 or more players. The game time for Golf usually runs around 10 minutes (much quicker than the real thing!)