Merry Christmas! It's that time of the year again, so you know what that means. Christmas office parties! Except if you're working remotely, you will need some virtual variations. You've found our list of virtual holiday party ideas.
A virtual Christmas party is an online celebration in lieu of doing it in the office. There are many reasons for choosing to work remote, but even if you have a fully remote team, it doesn't mean you need to skip holiday celebrations. Christmas celebrations give remote workers a chance to talk to colleagues about things outside of work, which builds teamwork and communication.
Virtual holiday parties are a type of virtual Christmas event.
In the following list you will find the best virtual Christmas party ideas for work to create a festive spirit - even when celebrating remotely.
Virtual Secret Santa
Everybody knows that a big part of Christmas parties is receiving presents. For some people, the act of giving is even more rewarding than receiving gift. Picking out a present for someone is a very gratifying experience, and receiving one is also a lot fun and excitement.
Secret Santa is a timeless Christmas tradition. It's when you draw a name and buy them a present. A minimum and maximum price is usually set so gifts are affordable and more about the fun rather than splurging big amounts of money.
If you are working remotely across several different countries, it may be tricky to co-ordinate the gift giving. One idea is to submit an e-Commerce seller to the HR organizer and get them to order the gifts to everybody's designated address. This simplifies the process and reduces the need for international shipping.
Once everybody has received their presents (make sure to order by a certain cut off date), wait until the virtual Christmas party where you all open your Secret Santa gifts together on Zoom!
Christmas themed virtual backgrounds
Changing your Zoom background should be common knowledge for anyone working remotely. If you're not aware, it's a neat feature that lets you customize your background to any image. It's often used to hide the background if you feel your home is not "presentable" to the audience. But why not take advantage of that feature and make your background something festive or Christmas related? Encourage your remote team to find an image ahead of time (simply Googling one will do) and make sure to remind them to update their settings ahead of time for your virtual Christmas party.
Decorate your desks
Decorations were my favourite part of Christmas. All the candy canes and fairy lights really added to the atmosphere. Even some small props can totally change the mood of someone's desk, so as one of many great virtual Christmas ideas - why not encourage everyone to dig out the Christmas decorations, set them up on their workstation and show the rest of the team?
Dress up in Christmas Colors
The traditional Christmas colors are red, green, gold and silver. Even when you are all working remotely and cannot see your outfits in person, dressing up can still make for one of many virtual Xmas party ideas - the small act of encouraging everyone to wear something incorporating those colours can get people into the Christmas mood. Even better if they have some Santa Clause hats or reindeers. Something so small and silly actually turns out to be a lot of fun.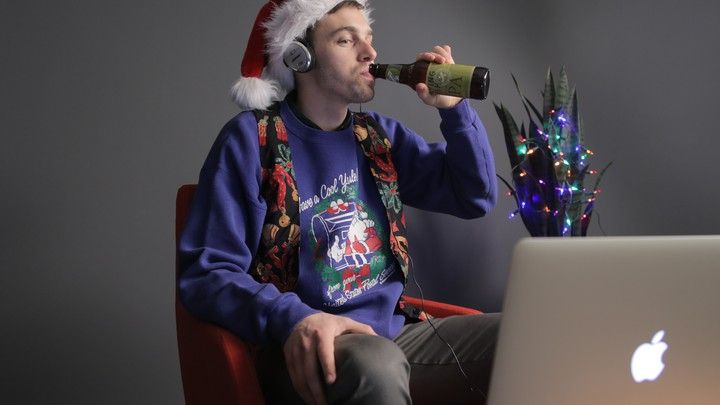 Play Christmas Online Icebreakers
Online icebreakers should be a staple for you if you work remotely. Icebreakers are quick games to be played before meetings to help set the mood and bring energy levels up and increase engagement. If you're hosting a virtual Christmas party, then you'll need some specific Christmas Icebreaker games.
A popular online Christmas game to play with the office is Christmas Trivia. Test your knowledge of the festive season with fun Christmas related quizzes. You can even offer a small Christmas prize to the winner (i.e. candy cane, gift voucher)
Aside from Christmas-themed Trivia, you could also explore other icebreakers or fun activities for your remote team to play with, all with a Christmas twist. Activities like a Christmas-focused game of Charades, or a mental challenge like Taboo are a few examples of what you could all do.  
Watch a Christmas movie together
Team movie nights are when the remote team choose a movie and stream it together. This is a low-effort activity to organise and is a great way to unwind on a Friday night. As one of many great work Christmas party ideas, a Christmas themed movie night is a chance to choose a cheesy flick and get those warm nostalgic feelings. One way to do it easily is by streaming it together on Netflix Party.