Celebrating seasonal holidays is a great way to keep your team in great spirits after a long hard year of work. As Thanksgiving rolls by, and we start preheating those ovens for the family roast, why not share in the spirit with your office colleagues?
Even if you are working in a remote or hybrid situation, there's no reason to skip out on the Thanksgiving office party.
Why you should have a virtual Thanksgiving office party
If you're from the United States, then having a Thanksgiving party is usually a signal that the festive season is upon you. But many remote teams are comprised of international members. Should you still celebrate Thanksgiving? The answer is yes! Not only should you celebrate the US holiday of Thanksgiving, you should encourage other members of the team to share their national holidays together with their colleagues.
This bridges cultural barriers which is what remote work is all about. Even though we are all from different areas of the world with different traditions, sharing those differences is what brings us all closer together.
Here is a list of ideas for some Thanksgiving team building activities you can do with your remote team to get into the Thankful spirit.
Start your meeting by sharing one thing you are grateful for
It's easy to forget the original meaning of Thanksgiving amongst all the eating, but as the name suggests, the original intent of the celebration was one of gratitude. The holiday commemorates a harvest festival celebrated by the Pilgrims in 1621. Although we're now 400 years from that original first harvest, being grateful for what you have has never gone out of fashion.
Start your daily meeting or virtual Thanksgiving office party by going around and sharing one thing that you are grateful for. It could be big or small, but the simple act of sharing can have profound effects on our well-being. In fact, studies have shown the benefits of gratitude to include increased self-esteem and improved relationships.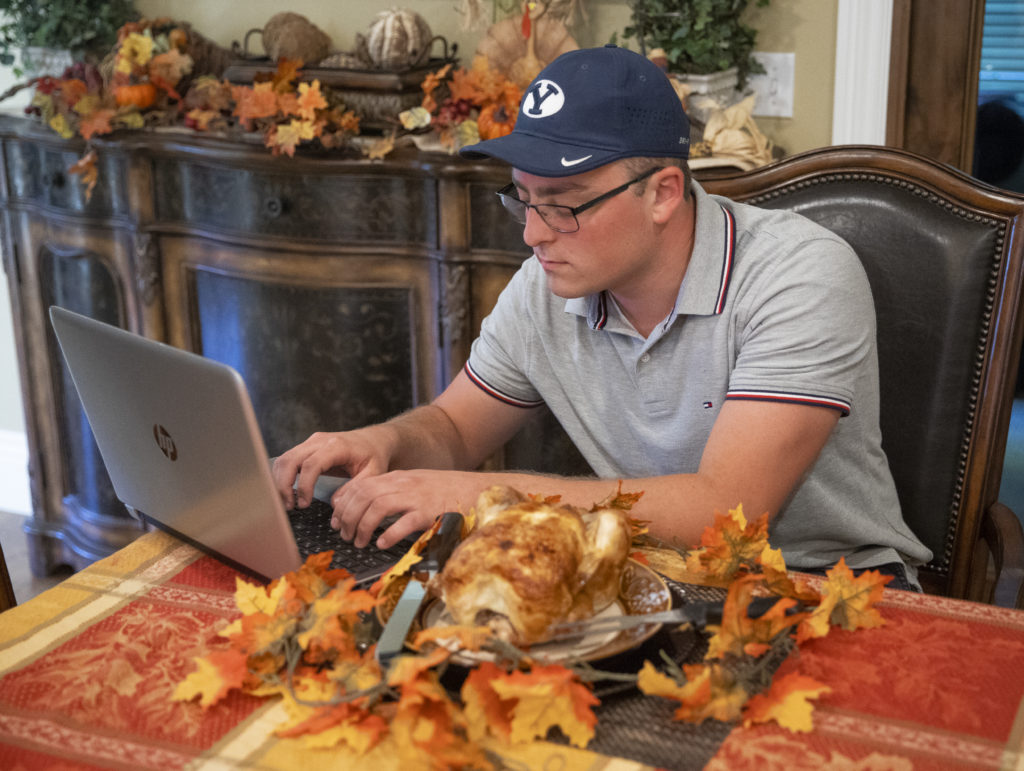 Remote potluck
Another big part of Thanksgiving is about the food. Namely, the act of cooking big meals to share with your family. Although it may be impractical to cook a dish and send it around the world to your remote colleagues, this is a good opportunity to enjoy the cooking aspect of the holiday.
Instead of eating your regular lunch that day, whip something up and eat it on a video call together. If you have team members from across the world who do not eat the usual Thanksgiving foods, ask them to make something from their culture. This is a great opportunity for sharing cultures and growing closer.
Play Thanksgiving Trivia
A great virtual Thanksgiving idea is to play Thanksgiving Trivia. Test your knowledge of the festive season with fun Thanksgiving related quizzes. You can even offer a small prize to the winner (i.e. candy cane, gift voucher).
Thanksgiving themed virtual backgrounds
Changing your Zoom background should be common knowledge for anyone working remotely. If you're not aware, it's a neat feature that lets you customize your background to any image. It's often used to hide the background if you feel your home is not "presentable" to the audience. But why not take advantage of that feature and make your background something festive or Thanksgiving related? Encourage your remote team to find an image ahead of time (simply Googling one will do) and make sure to remind them to update their settings ahead of time for your team's virtual Thanksgiving party.