Pictionary should be a familiar pastime for anyone, allowing everyone to simultaneously test out their sketching and deductive skills on the spot. The premise is simple - one player has to draw a visual representation of a word they're given, whilst all the other players attempt to guess what the drawing is. The winner (either individual player or team) is whoever guesses the most drawings correctly.
Even when you are all working remotely, there are plenty of ways you can all play Pictionary online. Check out our recommendations below.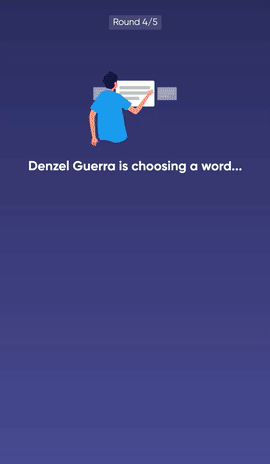 Available exclusively on Brightful, Draw It is a fast-paced guessing game that aims to test everyone's quick-drawing skills to the limit. Each player takes turns drawing out a given word while everyone else attempts to guess what the word is. The quicker a player guesses what the word is, the more points they score.
Benefits of using this method to play Pictionary:
Plenty of categories of words to choose from, such as Pop Culture, Sports, and Movies.
Ability to customize and create your own 'Draw It' game - include words from your favourite TV shows or other specialized content, make your 'Draw It' game truly your own!
Get to vote on your favourite drawing at the end of each game - who drew it best? (and you can save your favourite drawings too).
Easy to set up for game hosts and easy to start playing for users - no additional software needed, Draw It works on all web browsers.
Play from any device with an internet connection - whether it be a computer, tablet, or smartphone.
Works seamlessly with video conferencing running side by side - continue socializing and interacting with your fellow players while playing!
Gartic Phone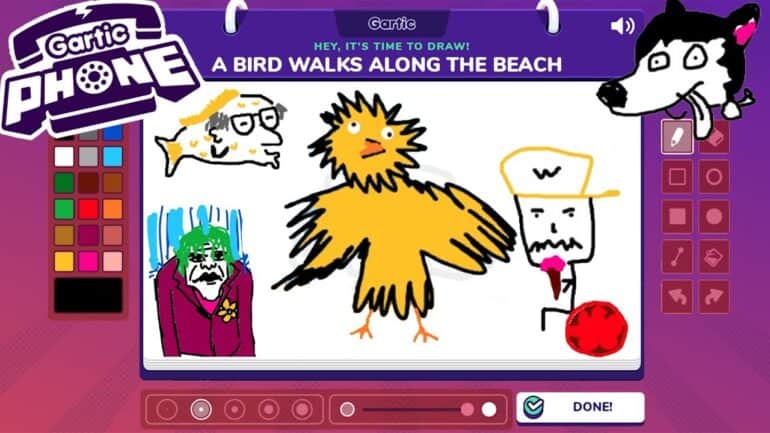 A favourite among streamers, VTubers, and YouTubers to get everyone in the room laughing, Gartic Phone is a great drawing-focused game that you too can also play with your team - with hilarious results!
Gartic Phone is quick to set up and play instantly with your team - with minimal instructions required to understand how the gameplay works. In this game, players take turns thinking up a sentence and coming up with the best drawing to represent that sentence - with the rest of the players attempting to guess what the original sentence was. There are also various game modes you can choose from to introduce various gameplay conditions or elements to make things more unique or difficult with each game, or customise the game conditions to your own preference.                                                                                                                                                      
Benefits of using this method to play Pictionary:
Play from anywhere - Gartic Phone can be played via desktop or mobile devices.
Various game modes and the ability to create your own custom gameplay with different conditions or gameplay rules to keep every round interesting!
Guaranteed hilarious results - great comedic relief and content potential (especially if you stream yourself!)
Playing Pictionary from Scratch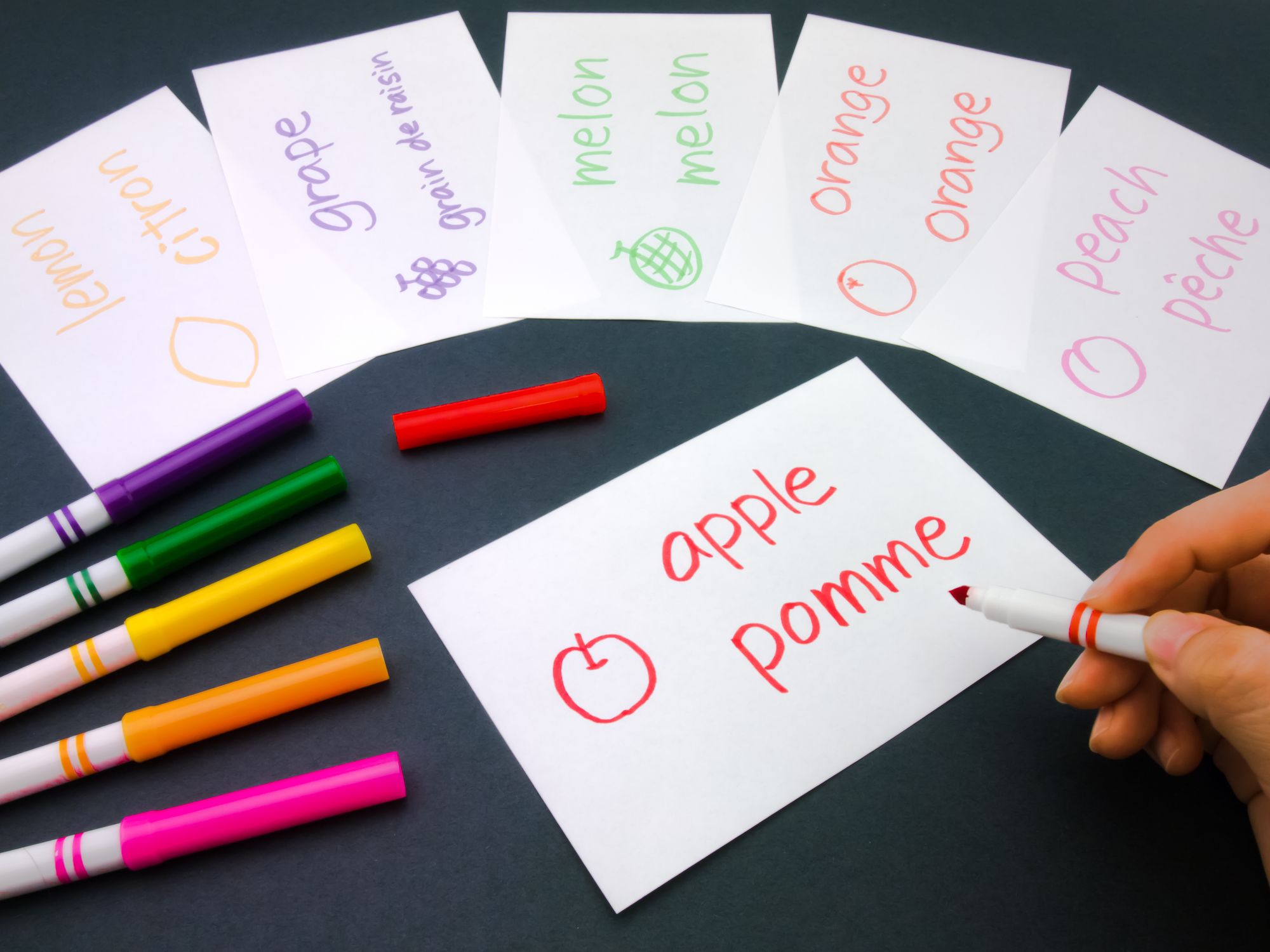 Another way to play Pictionary with your remote team - you don't even need any online software to do it! Pictionary can also be best played with a few basic tools and an online whiteboard.
First, find an online whiteboard or drawing canvas that can be accessed live by everyone through their device via an internet connection - there are plenty of online canvases that can be accessed through any wide range of web browsers. Then find a random word generator - this will create your word bank and choose the words everyone will select to draw out.
When it's time to play, simply have whoever is drawing at any given turn share their screen so everyone else can see what they are drawing and attempt to guess out loud what the word is. If you are using Zoom for your video call, this can be made easier to do by using the software's built-in whiteboard function.
Benefits of using this method to play Pictionary:
You have full control over what words can be drawn out - make it as crazy or as many as you want!
Free to play! (All you need to pay for is the internet connection)
In addition, by playing Pictionary through this method, you can modify the game to meet a certain need or task. Want to turn it into a fun study tool to review course content? You can do so.
FAQs about playing Pictionary with Teams
How can I host a Pictionary game with my group through a video call?
Whatever Pictionary game you choose to play, whether it be one of the methods mentioned above or one you find yourself, most can be run in the background or simultaneously while your video conferencing tool is running. Have your Pictionary game running on one side of your screen, with your video conference tool (Zoom, Microsoft Teams, Google Hangouts, Discord, Skype etc.) on the other, so you can keep an eye on the current game while communicating with your team members.
Ensure everyone in your video call is logged into the platform you will be using to play your Pictionary game before the game host starts it.
How can I keep everyone engaged throughout the gameplay?
It's important to ensure everyone is still engaged with each round and each word that is being drawn out. Not only will this keep the game fun and engaging, but it might also even help people figure out what the word is quicker and add points to their score!
To keep players engaged throughout the game, break up each round with a minute or two to discuss the drawings themselves - such as commenting on how detailed (or how poorly) the drawing ended up, how were you able to guess so quickly (if you were fast to correctly deduct what the word was), or some of your thoughts on how you would have drawn it out if you were the chosen artist.

How can I keep the Pictionary game fun and interesting, especially if we play it as a regular activity?
If you plan on incorporating Pictionary as an activity your team or group will play on a regular basis, it's important to keep the gameplay interesting to ensure your team won't be easily bored and uninterested in each week's scheduled Pictionary game session.
To make every Pictionary game interesting each time, change up the word difficulty. Don't restrict yourself to the same old, simple words; challenge yourself and everyone with harder words that are more complex to draw out or will take a little more thinking to guess what they are. Using Pictionary to review a chapter or previous course content? Add what you covered from the week into the word bank.
Don't forget to incentivise players to take risks and challenge themselves by taking on more difficult words - offer double the points or special abilities that give them a temporary advantage in gameplay!

Conclusion
Pictionary is more than just a fun group game to hone your drawing and deciphering skills. It is a great way to have fun with all of your team members and allow everyone a chance to express themselves artistically - no matter their drawing skills! Pictionary can make for a great way to engage your team while you are all working remotely, no matter where you may be in the world.
Also, don't forget to save any memorable drawings from your Pictionary game to reminisce and talk about for later!