Working remotely has started to become the new routine thanks to the way the world is changing, and more companies are adopting this way of working. The introduction of remote working by businesses worldwide is not only assisting employees in keeping themselves safe. Plus, it is also positively impacting their productivity and satisfaction levels. Although these factors primarily depend on selecting and implementing the proper tools for remote workers are now easily accessible all over the net.

The necessity of having the right tools for remote workers becomes even more crucial as teams are now more agile, and they want flexibility in their work. For this article, we are going to go over some of the must-have tools for remote working.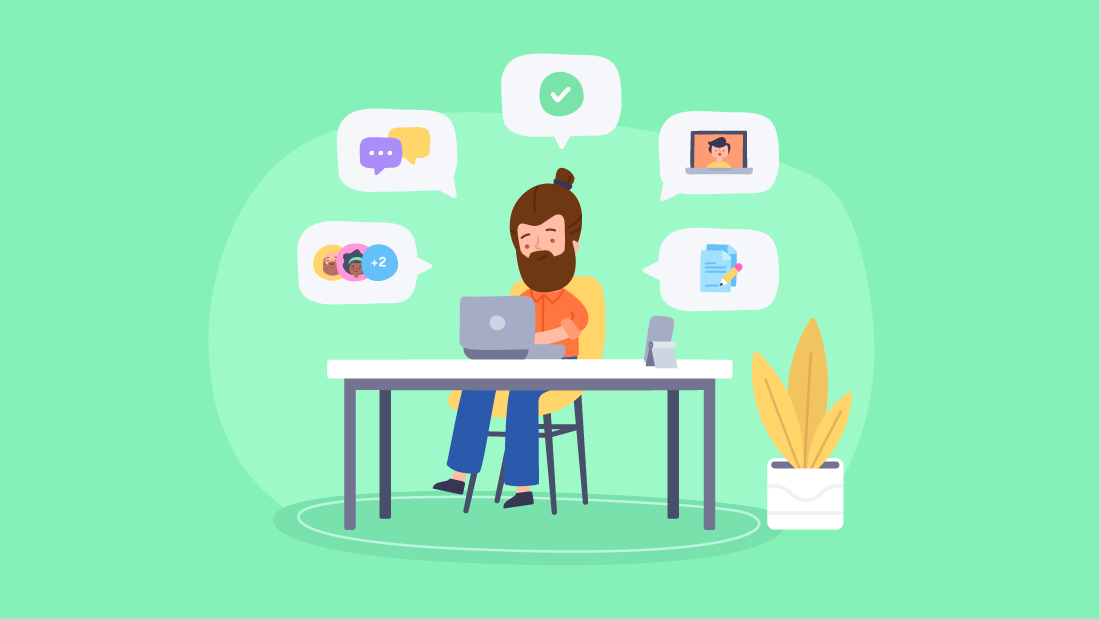 There is a good chance you may have used Zoom at some point in your career. This tool provides excellent video and audio quality along with a user-friendly interface. Furthermore, it gives users a recording option for you to record any relevant conference that they need to revisit at a later date. Zoom is also capable of hosting a significant amount of people when it comes to including people in meetings. You can also enable screen sharing for every participant over at a time.

The most crucial selling point for zoom is that it operates on very low amounts of bandwidth. It means that compared to other video conferencing tools in the market, zoom consumes lesser data during a video conference.

Microsoft Teams allows you to be a team by allowing you to chat, jump on a group meeting, contact a coworker, and collaborate in various ways.

Microsoft Teams offers every basic video call feature you need, like screen and file sharing, virtual background, and app integrations. Although what makes Microsoft teams stand out from the rest is the Together mode they have managed to roll out. This feature enables teams to be and work together even when working from home. The digital workspace was developed for those who like to sit together with others while working remotely.

Furthermore, Microsoft ensures that its tool is secure and compliant. You can use this tool comfortably, knowing that your meetings are protected by industry-leading technology.

Task Management and collaboration can become a challenging issue when working with remote teams. Fortunately, ProofHub has stepped up the plate with its project management and online collaboration tools that take care of these issues.

Users can create tasks with a start and end date and set up custom roles so that everyone is aware of what they are supposed to do and when. There are customer reports to plan and manage your tasks, projects, and resources. ProofHub can also be integrated with other popular applications such as QuickBooks, Google Calendar, Outlook, Dropbox, Google Drive, and more to bring everything you need in a single place.

The tool also has an online proofing feature that makes reviewing and approving tasks an effortless issue. The tool also features a dedicated space for real-time discussions, file sharing, and a built-in chat app.

Every company needs a chat app that works as their HQ, and Slack is the choice for most companies. Slack has become the undisputed champ of champ applications and is one of the most effective collaboration tools. Not only does this tool offer a significant amount of integrations, but it also has a simple setup process that allows for seamless installation and onboarding. It offers several channels, direct messaging, various integration, and attachment of documents and files.

Every one of these features makes this tool extremely reliable and an excellent option for almost any business.

Basecamp is a popular tool among remote managers and their teams due to its simple functionality, clean design, and seamless usability. The tool is a project management and team collaboration solution that assists a remote team with managing projects. It also allows for communication with customers in a meaningful manner. It offers a wide range of features for sharing ideas, organizing chat logs, and keeping everyone on the same page throughout the project.

One of the most crucial areas every remote team needs to consider when they are choosing remote working tools is a file storage solution. Google Drive is one of the more popular file storage solutions available on the market and is the gold standard for cloud storage. Along with excellent security and transparency, Google Drive offers its users a real-time editing feature. These features make it much more desirable compared to other products in the market. Furthermore, you have the dependability of Google behind you.

Dropbox is another file storage solution that is also popular in the market. If there is any other solution that can compete with Google Drive, it would be Dropbox. The tool is incredibly easy to use and offers a seamless experience for novices. All you need to do is save a file to the Dropbox folder, and you are all good to go.

With the amount of experience it has gained for being one of the first file storage solutions around, DropBox is reliable and syncs files quickly than most of its competitors. You should consider checking it out if you are looking for an alternative to Google Drive.

Trello is an excellent project management tool that prevents users from having any of their works slip through the cracks. The tool allows you to create different types of boards that can be filled with various tasks that need to be accomplished by your remote team. A solution is visual software that is strong, fun, and easy to use.

Every Trello work happens on the boards you create, which can be divided into lists. Every task is listed on the cards found on the list and categorized as they are finished. Trello is an excellent tool that can assist remote teams with handling their projects.

Hiver is an excellent tool that helps remote teams manage their group inboxes, such as support, info, or contact right from Gmail. With the tools shared inboxes, conversations can occur seamlessly over email. Each of your emails can be assigned to a user and kept track of in real-time until the point of resolution. Team members can also collaborate seamlessly using internal notes instead of relying on external chat apps.

By using Hiver, you can assign emails and track them effortlessly. Turn emails into tasks and distribute them to team members with a few simple clicks.

There are tons of rewards and recognition solutions out there, but Vantage Circle sets itself apart by being fun, easy, and engaging, which enhances your company culture and team engagement. The tool also includes a peer recognition system where employees can nominate their colleagues for awards and appreciate them. Every one of these tidbits also appears on your employee's news feed makes sure no one misses out on the latest update.

Furthermore, you can reward your employees with points which can then be redeemed as gift cards from popular brands on the platform. Best of all, the entire platform is available on a mobile app with real-time tracking, which offers employee engagement while on the go. Vantage Circle makes sure that the efforts of remote workers are being recognized. The tool can also integrate with well-liked HMS players and integrate with SSO.

TeamViewer is a tool that allows users to gain access to other computers remotely if it has the application installed on it too, and you are provided with the login details. TeamViewer's system is reliable. You can rest assured that this software is capable of seamlessly accessing a remote device safely.

Remote workers can use this to receive technical support from one of their fellow employees, especially when an issue cannot be resolved through simple troubleshooting tips. Since most of your team will be scattered in different locations, using TeamViewer to assist each other or even linking the office computer with your home computer.

Yammer is an excellent tool for both remote workers and office workers. Plenty of businesses and remote workers already use Yammer for its unique format. Unlike other chatting tools, Yammer offers you a social media type interface that is exclusive to your employees. It is best suited for companies searching for a medium where employees can communicate with each other for both work and personal topics.

Your team also has the option to like, share, and comment on conversational posts that appear on their news feed. That makes Yammer an excellent engagement tool for every one of your employees, whether they are in the office or remote working.

Remote working can become a tedious and impersonal experience. Managers must ensure their team is capable of bonding while working remotely and taking breaks to blow some steam off. Brightful me is a tool that transforms your meetings into a fun and exciting experience. It allows the chance for remote team members to develop bonds with their fellow employees.

Brightful offers remote workers an assortment of games they can play during their online meetings. These games are sure to provide a spark of excitement and laughter among team members every time. To start a game, merely gather everyone into your virtual conference tools, such as zoom or skype. Then share the invitation with your team, and you are all ready to go.

You can start conversational games like "Would you rather" or "Draw and Tell," social games like Mimic, Werewolf, and Rummy. Or you could try some faster-paced games like Draw it or Describe it. Each of these games is guaranteed to bring some excitement to your team and help develop trust and connectivity among everyone.

Conclusion
There you have it, some of the must-have tools for your remote teams. Every one of these will ensure your productivity and communication manages to flow seamlessly. Just make sure to check which one suits your particular needs the best.