During the recent year, most of us have been living a life of uncertainty. The world is currently shifting in ways most people are unable to keep up with. The pandemic has caused all sorts of chaos in our lives, and it has become a struggle for everyone to maintain a semblance of normalcy. The amount of stress that everyone is undergoing is not healthy, and some are experiencing a mental decline from their worries.
While a good number of people have managed to continue working from home, that doesn't change the fact that they still have several concerns to deal with every day. Remote work was something that was implemented quickly for most companies. A good percentage of remote workers are unlikely to be accustomed to working at home, especially if they are the type used to be in contact with their colleagues. Let's not forget that they are also dealing with family members also being home, which adds another layer of stress.
Managers need to do everything in their power to ensure that their remote employees are taking care of their mental health. Fortunately, there are several ways to pull this off, and one of the simplest ways is through meditation. Mediation has proven to be an effective tool against the effects of stress and anxiety. Meditation can assist your team in finding inner peace and taking breaks from everything.
For this article, we are sharing the best meditation apps or remote workers.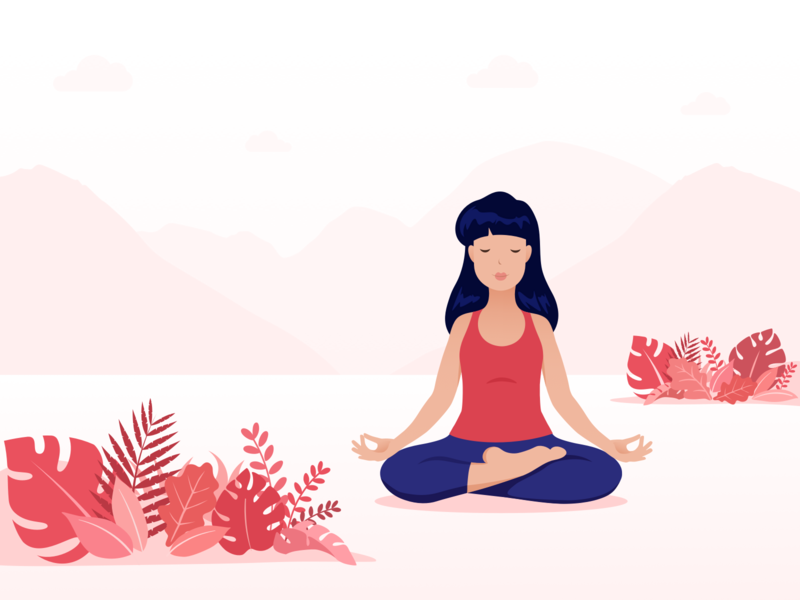 Headspace is one of the most popular meditation apps out there, and it's excellent for remote workers. Users of this app can choose a guided meditation session of five, ten, or fifteen minutes. Headspace was founded by a former Buddhist monk named Andy Puddicombe, and he voices the meditation session you'll go through in this app. The best part about this app is that it provides guided meditation sessions on motivation, productivity, and how to live in the present moment, making it excellent for remote workers.

The app provides a feature that allows you to set up reminders, so you won't miss out on any meditation session.

Calm is an excellent app that provides you with a wide range of options. If you are feeling anxious, stressed, or lacking focus, Calm's guided meditations can help you out. The app was built with several features that will teach you how to remain centered throughout each passing day. The app also has an option for listening to several relaxing sounds. Some of the sounds you can expect include waves, birds chirping, fire burning, and more. You can mix different sounds to generate your own song that relaxes you.

Calm manages to separate itself from the rest of the other meditation apps by offering its users beyond its quality meditation catalog. One of the latest offerings is Clam Body, a ten-minute guided video that teaches gentle stretching to help you relax. Another great feature is "Sleep Stories," which offers bedtime stories read by some of the most soothing voices of celebrities.

Simple Habit was created to help busy people, and it provides guided meditation sessions of five minutes. The founder has claimed that people think they do not have enough time to include another thing on their to-do list, and Simple Habit is the app that makes things more manageable. The app helps you relieve stress and calm the mind. It also allows you to choose topics of interest for you at the start, and the application will recommend meditation sessions according to your personal preference.

Buddhify provides its users with a guided meditation on 14 different activities, so your remote workers can use it from home or on the go. There are sessions that users can listen to where they eat or work on their tasks. It even provides meditation sessions for working online, so it's an excellent choice if you want your workers to meditate as they work.

This app is considered to be one of the most user-friendly ones around and has a visually appealing UI for a meditation app. The app is intended for people who find themselves far too busy with their work. Buddhify is considered one of the best meditation apps around and is used by millions of people worldwide.

Ten Percent Happier is a well-made app that helps its users meditate and cultivate small moments of gratitude each passing day. The app is easy to use and intuitive, making it a joy for people to use each day. Ten Percent Happier lends itself to being more of a social gratitude journal that assists the user by motivating them to practice gratitude regularly.

The app also has a feature that allows you to interact with other users from around the world by sharing inspirational stories or praising each other for their progress. It has a social feed that shows what everyone on your list is grateful for and the progress they have made. The app also provides users with meditation sessions to get through the busy workday, making you Ten Percent Happier.

Livin up to its name, this meditation application helps its users pause for a moment, concentrate on their breathing and open the mind for new ideas and perspectives. Initially, it was built to help teenagers and students that have a tough time finding their motivations and inspiration for their homework. Stop, Breath and Think is a meditation app that has become widely adopted by adults and teenagers alike. It's an excellent app for beginners as it provides the users with simple and easy meditation sessions.

While every meditation app comes with its own way of meditation, some concepts remain the same across all boards. Portal is a meditation app that assists the user in relaxing and taking things one step at a time. It provides users with a wide assortment of soothing sounds that takes them to a whole other dimension. The app can take you anywhere in the world, from the oceans to the deepest forests. Portal also teaches users breathing techniques and a focus segment that intends to improve the user's concentration ability. All of these are fundamental parts of meditation, and Portal is a good app to start with.

Conclusion
Meditation apps are a great way to ensure your employees are getting in touch with their inner selves. The peace and calmness they achieve from these sessions will ensure they manage to improve their productivity. If you are looking for a way to help your remote employees make it through each day, then these meditation apps are an excellent way to help them.