Benefits of drawing
If you've been following this blog, you will know we're huge advocates for drawing pictures. It's something that is often done by the young as way to express their imagination, but the benefits of drawing for adults are huge. Tapping into your drawing abilities is a great way to relax and reduce stress, while increasing creativity and innovation. Maybe that's why so many adults are joining Sip and Paint classes all around the world.
Even though drawing is one of the most basic activities (all you need is a pen, paper and some creativity), it can be a bit hard to get started sometimes. That's why we've put together the ultimate list of easy things to draw, to help you get started. Choose something from this list, and just get started. Maybe you have an example lying around the house to sketch, if not just search some pictures online! Since it's a process of learning, don't be afraid to draw something ugly at first. Just keep practising and enjoying the process. Tapping into drawing mindfulness is great for mental health.
Draw with others
Once you're rekindled your passion for doodlin', why not do it with some friends? Drawing as a group can lead to a lot of fun, laughter and good times. Maybe you want to reconnect with family or friends, or even your remote colleagues.  A great way to enjoy drawing is by playing Brightful Meeting Games. There you'll find a game called Draw It, where you take turns guessing what the other player is drawing. The quicker you guess, the more points you score. Test out of your drawing and guessing skills! The best news is, it's completely free. Give it a shot today.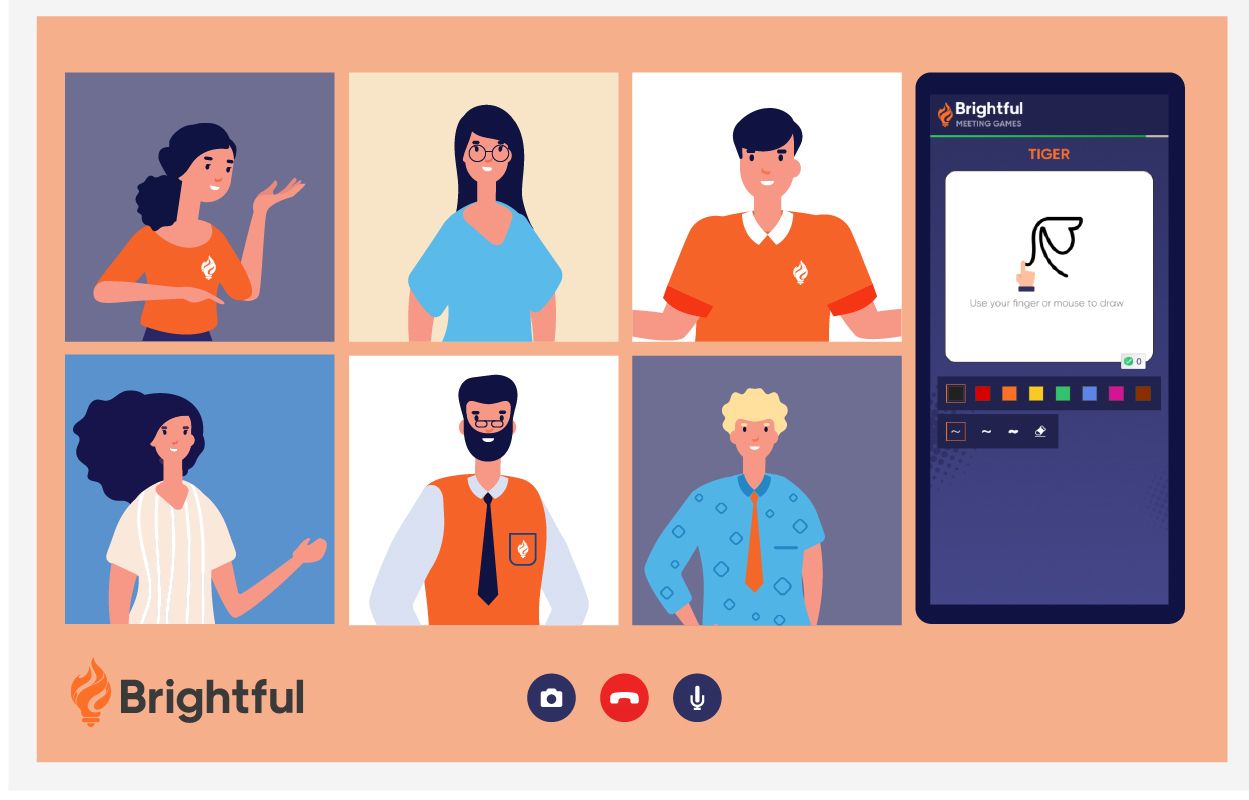 Here's a list of 19 Easy things to Draw - Ideas to get you started
DINOSAURS
What could be cooler than dinosaurs? Draw them in all sorts of shapes and sizes. And don't forget to add lots of dino-attributes like teeth and tails. There are so many different dinosaurs out there—try drawing as many as you can find! Just remember that if it has feathers, it's not technically a dinosaur. That said, this is one easy thing to draw that can be great fun—especially if you use lots of color with your drawings!


A CITY SKYLINE

If you live near a city, maybe you could look out the window and get some inspiration. Otherwise, use your imagination. You're the architect of this imaginary city, make it look however you want.

DRAW A DANDELION
Draw a dandelion flower, dandelion doodles are perfect for art journals, bullet journals and more.

DRAW A BUBBLE
Bubbles are so simple to draw. Add some rainbow colors and they become perfect for scrapbooking and art journaling. Try adding a little arrow or speech bubble for some added fun!
BONUS: Use different colored pencils to color your bubble doodle.

DRAW A STRAWBERRY
This is one of the most popular fruit doodles and is super easy to draw. Draw a few of these cute little strawberries on a paper, then turn them into strawberry art for your next scrapbooking project!

DRAW SOME GRAPES
Grapes are super easy to draw and look so cute.

DRAW A CUPCAKE
Cupcakes are fun to draw, especially when you use some of your favorite colors. Add a little frosting or sprinkles for added fun!

DRAW A DOG TOY
Dogs love to play with their favorite toys. Draw a dog and his toy for your next art journaling or scrapbooking project. These little doodles make the perfect border or embellishment for a layout!

A SPACESHIP
For easy things to draw when bored, why not practice drawing a spaceship? Look up a few images online and try sketching the coolest one you find.

BART SIMPSON
Don't have a cow, man! Such an iconic cartoon character, I'm sure you'll find plenty of examples to follow. Make sure to get make his hair nice and spiky.

CATS
They're furry, adorable and usually don't do much. They're also very easy to draw, especially when you get the hang of it. Start with a circle for the head and a straight line for the body. Don't forget about that tail!

HEARTS
What could be simpler? A heart is a simple shape, but it's still very recognizable. Make sure to give it that pointy end on the bottom. It will make your hearts much more lovable. And try drawing different sizes of hearts. They're all equally cute!

SNAKES
You can draw a snake with a couple of simple lines. This is a great exercise for anyone who wants to learn how to draw reptiles, but it's also fun for anyone who likes snakes. Just make sure that you have the eyes and the tongue in the right place. Don't forget to make the snake long and thin.

STARFISH
A starfish is another one of those things that are easy to draw. You can get creative with this, too. Try drawing a few different colors or patterns on your starfish.

YIN YANG SYMBOL
One of the oldest symbols in the world, this Chinese icon is one of the easiest things to draw. Start with a circle for each half and then fill them in with a color or pattern that represents you.

TURTLES
Cute, soft and huggable—who doesn't love turtles? Draw your turtle on a few different surfaces, too. You can draw a turtle sitting on the sand, lying on its back or climbing onto something. The sky's the limit!

CATS EARS
We've already talked about cats here, but they deserve another mention. They're one of the easiest things to draw because their ears are so simple and adorable. You can add all sorts of colors and patterns to your cat's ears. Don't forget about that tail!

EYES AND NOSES
We can't see a face without first looking at the eyes and the nose. And when you're drawing faces, it's important to get those parts right. Eyes are easy to draw because they're round and don't have too many details. Noses, on the other hand, are more difficult to get just right. But they're still one of the easiest things to draw. Try drawing a few different noses and then find a face that fits them best!

FLOWERS AND LEAVES
Plants are fun to draw because you can add so much detail—and color! Flowers are great for beginners because their petals are easy to draw with simple shapes like circles and triangles. Try making some flower crowns for your drawings, too! Leaves also look great when they're in motion, so give them plenty of wind by sketching some leaves that blow in the wind or swirl around on your paper as if caught up in an autumn breeze.

SOCKS AND SHOES
What could be cuter than tiny little shoes? Shoes come in all kinds of shapes and sizes—just make sure you leave enough room for toes inside those shoes! And socks look great when they reach up over ankles or even knees if you're feeling ambitious (or cold). Draw as many different pairs as you want; this is one of those easy things to draw that's not only simple but fun as well!

FACES AND HEADS
You'll need plenty of faces for your drawings, so draw as many as you want! There are so many different expressions to try out, and the heads that go along with them are just as easy to draw. Add details like hats or hair if you're feeling ambitious!

WATERMELONS AND OTHER FARM FRUITS & VEGETABLES
What's easier to draw than a simple circle? A fruit or vegetable! They're a lot of fun to draw, especially when you get creative with them. Try drawing a watermelon with different slices cut out of it or an onion that looks like it's crying tears of laughter.

PAPERCLIPS AND BUTTONS
We've all got those little things on our papers and clothing that we use to keep everything in place—paperclips and buttons are great for easy things to draw when you're bored! And if you have some different colors, try adding them in. The more the merrier!

GUNS AND KNIVES
The only thing better than playing with toys is drawing them, so give these weapons a try if you want something easy to draw that will help get your pencil moving again.

PIE
Who doesn't love pie? Draw a slice or even the whole thing and then give it some creative details. Try drawing a few different types of pie, too. Are you feeling ambitious? Then draw yourself a slice of pie!

COWBOYS AND INDIANS
The West is always a popular theme for drawings. Cowboys are fun to draw, and so are Indians! So don't be afraid to go all out with your drawings—and don't forget to make sure they have plenty of cowboy hats and arrows in them!

LADYBUGS AND BUTTERFLIES
We've talked about bugs a few times already, but that's because they're one of the easiest things to draw! Make sure to add in some leaves for the ladybugs or flowers for the butterflies. If you have more time, try drawing a bunch of different bugs and then picking your favorite ones. You can also try drawing a bug on different surfaces like grass or leaves!